ARCHIVER, EXPORTER, FUSIONNER ET DÉPLACER DES CANAUX DANS MICROSOFT TEAMS
Archivez, exportez et déplacez des canaux dans Microsoft Teams afin de permettre une gestion plus efficace de vos projets dans un environnement dynamique et évolutif.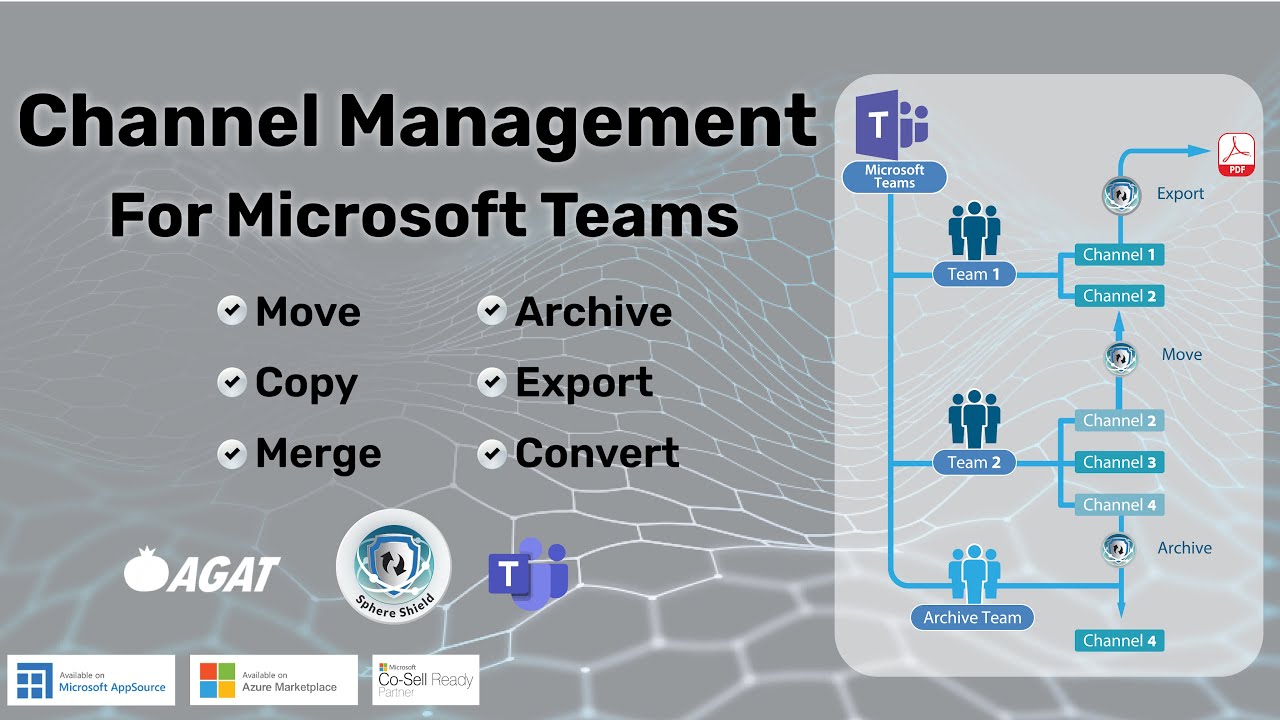 Principales fonctionnalités
✔Déplacer des canaux - Les publications, les fichiers, les onglets et wiki peuvent notamment être déplacés d'une Team à l'autre. Les fichiers correspondants seront déplacés dans SharePoint.
✔Archiver les canaux - Les publications, les fichiers, les onglets et wiki peuvent être déplacés dans une Team pour être archivés. Lorsque cette Team atteint sa limite de 200 canaux, une nouvelle Team pour l'archivage sera créée.
✔Canal d'exportation - Contenu au format PDF. L'information sous une forme pratique.
✔Fusionner les canaux - Évitez l'encombrement et organisez-vous.
✔Déplacer des canaux privés - À travers Teams, selon votre disponibilité.
✔Copier des Canaux - Commencez là où vous vous êtes arrêté sans perdre d'informations.
Contexte
L'un des principaux problèmes auxquels les utilisateurs de Teams sont confrontés est l'adaptation de leurs canaux à l'évolution de l'environnement. Au fur et à mesure que les entreprises changent et que les projets sont terminés ou mis de côté, les utilisateurs sont confrontés à une structure Teams encombrée avec un excès de canaux inactifs qui affectent la productivité.
SphereShield répond aux deux principaux besoins des utilisateurs marqués comme arriérés, tels que communiqués par les utilisateurs actuels de Teams, sur le forum Microsoft Tech Community.
Le besoin d'archivage des canaux : Plus d'informations sur le forum Microsoft Tech Community
Le besoin de déplacer les canaux : En savoir plus sur le forum Microsoft Tech Community
Licence et prix
Le prix de la solution de gestion des canaux dépend du nombre d'utilisateurs MS Team sous licence que vous avez dans l'organisation. Veuillez remplir le formulaire de contact ci-dessous pour obtenir immédiatement un devis et les détails de l'essai.
Archive inactive channels
Remove clutter, increase productivity
Move channels freely
Align with company & product changes, and remain dynamic
Export conversations & channel content
Archive everything. Remain compliant.
Get a Free Trial
Sign-up for a free trial and demo with a SphereShield expert
Get in touch
Har-Hotzvim Hi-Tech Park, Jerusalem, Israel